Tiles can be used in a variety of different ways to change the overall look of your house and rooms find out some ideas and check the combinations for your interior.
Be it your health or a gadget, everything demands care. Likewise, your house requires renovation after a certain period, it is part of human nature that you get bored and change leaves a pleasing effect on you.
Most of you would agree with me that you wish to bring a certain freshness to your house, but what to change? Walls or curtains or furniture. Today we will be discussing an integral part of your house that is flooring. Believe me or not floor does add a lot to your personal space, the right choice of colors can brighten up your room. .So here is the use of tiles in your room.
A number of people prefer wooden flooring in their room as it adds class and elegance to the place. It is a common perception that tiles are confined to kitchen and bathroom which completely wrong. Tiles are a more practical and easy approach as it demands less care and lasts long.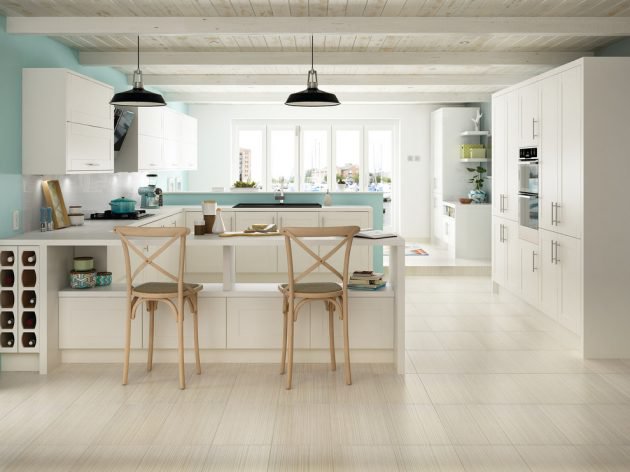 Now let's get to some tiles using ideas to a room:
We all know the power of right choice of color; it can either build or destroy the beauty of your house. If you want to play safe, my recommendation will be to choose nude shades, the nude shades have the ability to light up the place. Whites, faun, beige and cream color tiles never get out of fashion, yet provide a brightness and fresh feel to your room also making it look wider.
See More:-Ceramic Tiles: Stylish Solutions for Bathrooms
A tile in the kitchen is a beloved idea of many as it is easy to clean. You can apply tiles in the kitchen with the help of different themes available in the market. You can have a contemporary look or a house in the hills themes with bricks shaped tiles accessible in the market. Believe me, it will impress your guests.
Similarly, your living room can have a new look with a slight change in flooring. You can use themes like Spanish living rooms or wooden texture tiles giving an ancient tree house theme to the place. A simple light shade tile with color popping furniture will give a modern touch to your living room.
Talking about a bathroom flooring first idea that comes up tiles as it is convenient. Either black and white tiles giving chessboard theme, contemporary bathrooms with grey and white or contemporary bathroom tiles with unusual texture or pattern on it, the choice is completely yours. But no matter whatever you opt for it will end up with a pleasing smile on your face.