The exterior design of one's house plays a vital role in creating an overall impression of the house. Everyone is aware of the fact that a sloppy exterior is going to create a bad impression while a modern exterior is going to do so otherwise. Even while knowing that, seldom anyone pays much attention to the exterior design of their house.
Every by-passer of your house is going to judge you from the exterior of your house as a very small percentage of people come inside your house as compared to the people passing from outside it. Elevating the look of your house is going to simultaneously elevate your reputation in the neighborhood or the street you live in. you can actually make a huge difference in the overall look of your house by making the minimal changes that cost less too.
Hiring professional help
These infrastructures are not really the part of the existing structure of your house but as a separate structure, they uplift the look of your house giving it a more futuristic look. These infrastructures use insulated roof panels and polycarbonate material which provides strong and durable infrastructure while making it resistant to different weather conditions.
To make a stunning first impression, you should first pay attention to the entrance of your house. Elegant doors and stylish metal doorknobs help in doing the initial work of creating a good impression. After that, you can add creative and artistic doormats and a porch designed with elegant floor tiles to add more style to your house. Colorful and patterned planters are available everywhere in the market in which one can plant different plants to further enhance the entrance of their house.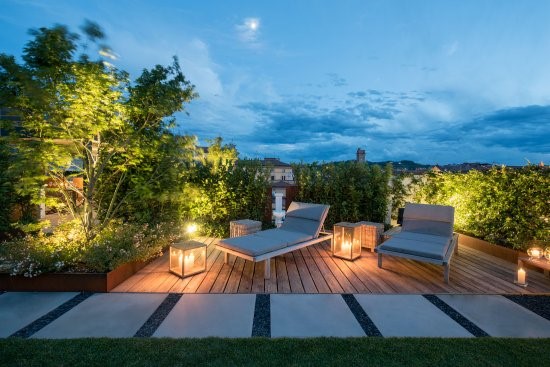 Different lighting designs and outdoor lamps also further help draw attention to your house and can shape and further enhance the infrastructure and exterior of your house. In addition to all this, you can alter the paint job of the doors, planters and can even get playful with the colors of the lighting of your house. Simple tell whatever ideas you have to the professional exterior designing company agents that you might have hired and they will help you bring your ideas to reality.
You can also make your doors a comfortable resting place in the house. You can add comfortable and elegant furniture to either your garden or to your porch to make it a cozy tea-time or a family movie evening space. Furthermore, you can even enjoy the rain outside with your cup of coffee and also you can soak up the morning sun on a cold winter morning if you choose to place such furniture in the outdoor space of your house.
The bottom line is, your home should not just be considered space where you live in, and rather it is a place full of warmth and feeling. This place is where you create different memories hence it feels like a home. Apart from that, your home also helps in shaping the overall image of yours in the neighborhood you live in. so to help you with all of the work, professional help is now available in the market to help you further build upon your ideas and turn them into reality while making the most of the money you invest in it.