If you are looking for a way to switch up the outlook of your house then look no further than adding a stone finish to its walls. Currently, adding stones to the exterior or the interior walls of your house is the most fashionable trend in the interior designing industry. This is such a timeless trend that has been in practice since medieval times and never seems to look outdated.
Benefits of stone cladding
If you get cladding done with stone, it is the most suitable choice for both the exterior and interior of your building. People mainly choose stone cladding because of the various benefits it has for them. It lasts a very long time and these stones are made from highly durable and unbreakable material that can withstand even the hardest hits and jerks.
Another benefit is the water-resistant nature of these stones. You would not have to go through the hassle of getting your buildings painted again and again once it has been worn out because of the weather conditions. Stone cladding does not get affected by rain or sun rather it protects the inside of your building from heating up too much during the summer season.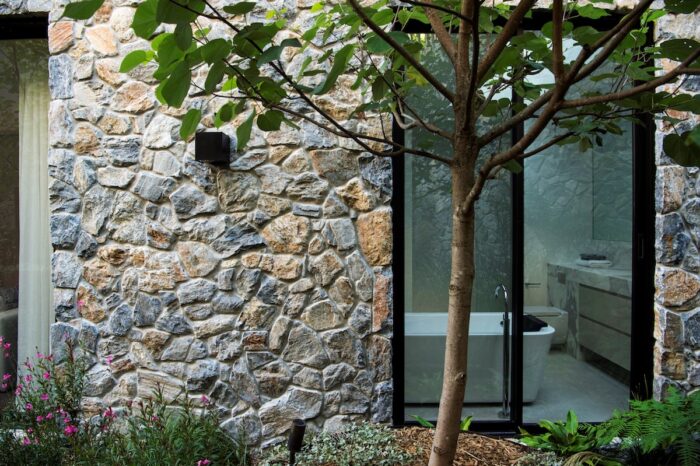 These wall types are also super easy to clean if they ever get dirty. If you have gotten them to install on the outside, you can run water over them but if you have gotten them installed inside them a simple wipe from a cleaning cloth also does the job. It requires minimum maintenance while it can look good and stay in shape for years.
These stones are available in numerous varieties of shapes and designs which gives you a greater number of options to choose from best suited to your liking. There are stones with different types of finishes and textures such as rough, matte, or shiny. Moreover, there are various colors also available in these stones you can choose from. Different sizes and shapes of these stones are also available for you to choose from depending on the type of wall you are getting them installed into and the type of finish and look you require.
The installation process of stone cladding
The installation process primarily depends on how easy or difficult your process is. The most commonly used technique is that the constructor applies adhesive to the backside of your stones and then pastes them onto the wall one by one until the whole wall of covered with stones. This method is the simplest one and does not require the constructor to have much technical expertise. Moreover, this method is also the cheapest one as there is no technical equipment being used in the process.
This method is particularly used for stone cladding as these stones are thinly cut so they do not require much other than the adhesive to stick to the wall. The stones are extremely lightweight hence they stick to your walls for years with the help of the adhesive and correct application skills of the constructor.
It is important to make sure that there is no water leakage or drainage break down under the wall where stone cladding is being installed as that can affect the installation and lifespan of these stones and cause them to fall off earlier due to the moisture in the walls. Hence, this way you can ensure the long life of your cladding without causing any harm to your walls as well.